Athletes are constantly looking for any advantage that will help increase their performance. There are several ways in which clothing can affect an athlete's performance. A runner may reap the physical benefits of wearing the latest high-tech footwear. Or an athlete may gain a perceived psychological edge on his opponents by wearing a certain colour.
In some sports the difference between winning and losing can come down to fractions of a second. Cyclists, skiers and other athletes that race against the clock seek clothing that will make them more aerodynamic and shave those few precious seconds off their time.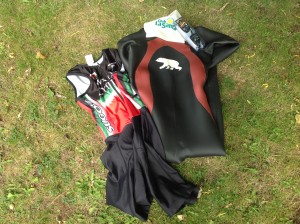 Comfort also plays a key factor. Wearing clothing that fits well allows an athlete to move more naturally. Similarly, clothing designed to wick moisture away from the body also benefits an athlete's performance.
Triathlon is – Swim, Bike & Run, which is completed back to back. The distance will vary depending on which race you choose.
This can be anything from:
Sprint: 400m swim, 20k bike and 5k run. This distance is normally pool-based triathlons. It is very important that you wear specific clothing, during the swim the least amount of drag possible.
Standard or Olympic Distance: 1500m swim, 40km bike and 10k run – The swim for this distance would normally be an Open Water Swim which unless stated would be a Wetsuit Swim.
On each of the distances you will be cycling when still wet and finally running.
It is so important to wear the correct kit during the transitions from swim-bike and run to the final finish line.
When racing longer – comfort has to be the main factor.
Half Ironman or Middle distance: 1900m swim, 90km bike, 21.1km run.
Ironman Distance or Long Distance Challenge: 3800m Swim, 180km Bike, 42.2km Run.
There are so many companies selling Triathlon Specific clothes on line, my advice would be to call into a Triathlon Specific Shop and try the garments on.
Click here to download a triathlon checklist, so you can be absolutely sure you have everything you need.