Transition Training is the 4th Discipline in Triathlon and should be included into your training plan. Swim to Bike to Run – T1 and T2.
How important is Transition Training?
Efficiently moving from one discipline to the next is a critical element of training that is often overlooked. Because the bike falls in the middle of the race, you must consider how both the swim and the run will affect your bike performance. By having a routine or a game plan in place, and practicing both swim-to-bike and bike-to-run transitions, you will not only head into race day with added confidence; you will be one step ahead of many of your competitors.
Preparation for the '4th Leg' of triathlon begins long before the gun goes off. Some transition skills are specific to the racing venue, and others can be practiced in training. First and Foremost you should arrive at the transition area on race day with plenty of time before the race begins. Familiarising yourself with the transition area and taking times to relax. During your pre-race preparation, either the day before the race or on race morning, you should walk the flow of the transition area. Check the entrance into transition from the swim and the exit out for the bike.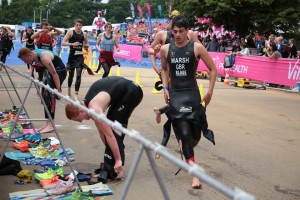 Mount and Dismount line – check if the mount line is on an incline, if so make sure you are in the right gear on the bike before you start pedaling [you wouldn't want to drop your chain right at the start].
Check the entrance into transition from Bike, and then check the exit to the Run course.
Familiarise yourself with the swim course:
• How many buoys?
• Colour of the buoys?
• Are they large or small buoys
• Any landmarks that you can visualise if the buoys are small or there is a swell?
• The flow of the swim – Clockwise or anticlockwise?
• Is it loops? Or out and back?
• Is it a deep-water start?
• Check the ground – does the ground fall away, stones, pebbles?
• Observe your surrounds
• Is it a mass start or is it divided into age groups or sex?
• Exit area
Normally the race pack with all the information is available on the event website. You should make the time to drive around the bike route, and familiarise yourself with the course. Ask the race organiser if there are marshals on major junctions, or if not, are there markers to indicate the way?
Again, check if it is an out and back, or if the route loops, and make sure you know how many. If it loops ask the distance of each- if you have a GPS monitor on your bike and it is multiple loops, and you forget how many you have done, at least you can work out by your distance covered.
T2- transition from Bike to Run: Again check if it is and out and back course and if there are marshals and how many on the route. If it is loops how many and will you have wristbands handed to you.
Check how many water stations are out on the course both for Bike and Run, and how far apart are they.
Water stations will vary according to the distance of the race, all this information will be on the race event course details. If in doubt ask!
Transition Training is the 4th Discipline in Triathlon and should be included into your training plan.
T1 Swim To Bike
Simply practicing setting up your bike in transition will go a long way towards making your transition between swim and bike as seamless as possible.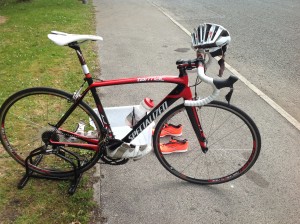 There are more decisions to make:
Are you comfortable mounting your bike so that you can leave your shoes clipped to the pedals?
Are you using rubber bands to hold the shoes upright as you run with the bike?
Where is the best place for your helmet, glasses and nutrition?
Can you run holding the bike by the seat or do you have difficulty guiding it?
Are you comfortable riding with your feet on top of your shoes so you can get up to speed before putting your feet in your shoes?
Or should you put your bike shoes on before removing your bike from the racking?
Make these decisions before your race and practice your routine until you feel comfortable with each step. You can simulate coming out of the water by doing some sit-ups and push-ups and turning around a few times before running over to your bike and practicing the transition. It becomes much more difficult to simply snap your helmet strap or buckle when you are disorientated and under pressure.
This is one of my favourite T1 training sessions that I often practice with my athletes:
Swim-run-swim-run-swim-run-swim [always ask for permission to do this set first with Pool Manager].
Training from Horizontal to Vertical Positions is vital for a successful T1. The first time you try this you will be wobbling all over the place, and will feel very disorientated so do not rush your first set. Routine – be methodical and relaxed!
Set your running shoes, towel, drink outside – this is your T1
This is the session: Swim 400m –[timed] run 1200m- Swim 200m [timed] run 1000m – Swim 100m [timed] run 800m – Swim 50m [timed].
Closer to the race season and the days are warmer, you can practice Open-water transition Training. Practicing getting out of your wetsuit is very important to a quick and easy T1. Some Swimming Pools will allow you to use your wetsuits in the pool, always ask permission and always shower before going in the pool.
The pool temperatures may vary; keep the swim short if the temperature is high.
Time yourself getting out of your wetsuit, practice, practice, practice and more practice.
Running and trying to undo your wetsuit can get frantic and frustrating, again Practice is the Key Word!
Treat T1 training as a Key session, or all that training to be 25 seconds ahead of your competitors on the swim can be ruined by failure to get this part correct.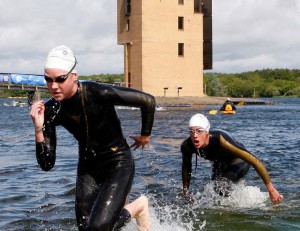 When you come out of the water:
Simple steps
Lift your goggles off your eyes and your swim cap up over your ears. This helps you to see were you are going and to hear for any instructions or others around you. If the water is cold keep you swim cap on your head and do not remove until the very last minute. Heat loss through the head can cause dizziness.
Be methodical about your exit. Don't try to multitask. Get out of the water and run about 10-15steps with high elbow to help get those knees up. Do not try to get out of your wetsuit while still walking out of the water.
Reach for Wetsuit zip and tug open to waist. Pull down so one shoulder is exposed, then pull down opposite side freeing one arm, then free the other. Roll down to the waist until you get into T1. Then remove quickly and place in transition box. [You can get a penalty if your wetsuit is on the floor or over the racking, this can be seen as impeding fellow athletes].
If it is a Sea Swim and you have to run
Tips for T1:
Start kicking your legs a little harder towards the end of the swim to warm up your leg muscles for the upcoming transition.
Always snap your helmet before taking your bike off the rack [this is race regulations at all races].
Run with your bike on your right so that you are away from the chain ring.
Hold your bike by the seat when you run out of transition to the mount line. This allows you to run upright and faster than if you were holding it by the handlebars [master this before trying it out on race day].
Get up to speed on your bike before putting your feet into you shoes – you'll lose much less time.
Whenever possible observe the pros in a race to pick up additional tips. Watch how effortlessly they move from one discipline to the next.
T2 Bike to Run
The transition from bike to run is what sets triathlon run training apart from the traditional run training. Because the run leg of a triathlon is performed immediately after a bike ride, you must teach your legs to transition quickly from the relatively fluid motion of cycling to the explosive movements required for running.
Doing so simply requires practice. Introducing transition runs in your weekly training schedule gets your muscles accustomed to switching gears quickly, negating the effects of those 'wobbly legs' that normally is felt from those first few steps off the bike. To be most effective, transition runs should be performed at least once a week following longer or harder bike workouts. Within 10minutes of finishing your bike ride [it is good to simulate the amount of time T2 is likely to take you in a race], slip o your running shoes and find your running stride.
The length of this run can vary from 15minutes to an hour, depending on the distance race for which you are racing. Keep in mind that even for Ironman distance training, incorporating a transition run that is more than 1hr in length is unnecessary, because the aim is merely to adapt your muscles to a change in movement [this usually occurs within 10 minutes] and to get accustomed to running on tired legs. Running longer than an hour following a tough bike ride will simply lead to fatigue that will require greater recovery time.
When properly executed, transition runs lead to both physical adaptation and increased confidence, allowing the run portion of a triathlon to be a welcome challenge rather than a dreaded march to the finish line.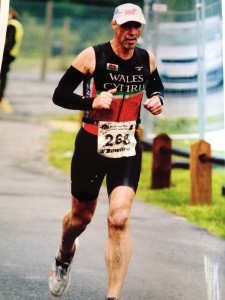 Tips for T2:
Moving from Bike to Run
Near the end of the bike leg, be sure to shift to an easier gear and increase your cadence to improve leg speed for the run. Also, get out of the saddle a few times to stretch your legs [ideally while continuing to pedal] this adjusts the legs ready to support your body weight.
Dismount on the left hand side of the bike, away for the chain ring.
After swinging your right leg over the saddle for the dismount, step though with the right leg between bike and left leg. This way, you don't cross your legs and risk tripping when you land on the ground. [Practice this over and over until you are confident on race day]
Never unbuckle your helmet until you have racked your bike; in many races, you can end up with a penalty or disqualification by doing so.
By ensuring comfort and a proper fit on your bike, by incorporating technique drills into your training, and by adding specific strength and endurance workouts, you will not only have a lot more fun than simply hammering out miles and miles of the same as, you will be amazed at how quickly the minutes will fall away from your splits. Remember, the fresher you finish the bike, the greater your chance of finishing strong will be!
Here are a few of my favourite T2 training for my athletes:
Race Distance Sprint and Olympic:
Bike- Run- as many times as possible in 1hr. 6km Bike followed by 800m run completed the circuit as many time in an hour. Be methodical and get a routine and stick to it.
Race Distance Half Ironman and Ironman:
Bike –Run – Bike – Run – Bike – Run Max time 4hrs
Bike 20km – 3km run, Bike 20km – 6km run – Bike 20km- 9km run
These are Key Training Sessions where you can try out your nutrition and hydration as well as your T2 training.
 Try these sessions and then let me know how you get on?